Garden Hotels, a sustainable holiday experience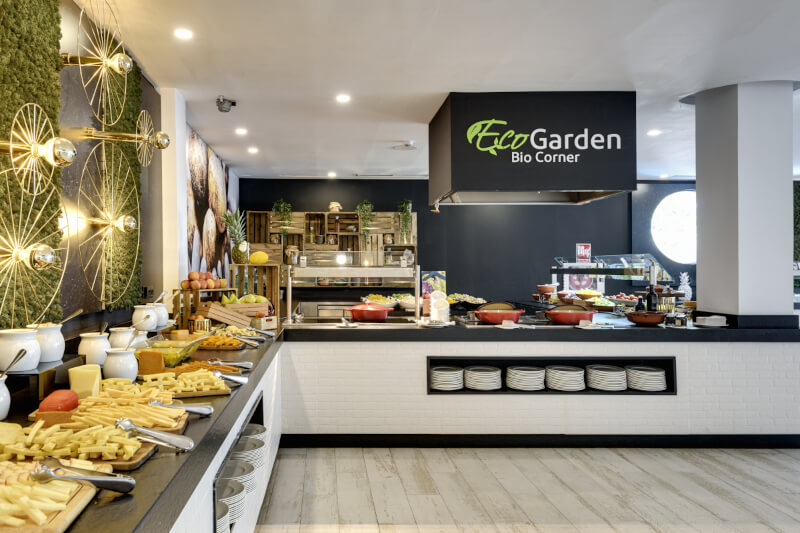 Going on holiday is always an exciting time for all the members of the family. It's an opportunity to take a break from routine and enjoy spending quality time with your loved ones, turning special moments into lasting memories.
Here at Garden Hotels, we offer you the opportunity to enjoy the best holiday of your life, and what's more, experience the satisfaction of knowing that when you book with us, you are contributing to building a more sustainable world.
All Garden Hotels properties have introduced a series of eco-friendly practices designed to protect the environment:
We believe in the circular economy, giving as many resources as possible a second life. This way, we can create our own products employing techniques that contribute to reducing the number of impacts and the amount of waste in our immediate environment.
We use more than 90,000 kg of locally sourced produce in our buffets and restaurants. The goal is to support local economies and especially to promote Balearic Island produce, giving it the prominence it deserves. What's more, at the Playa Garden Selection Hotel & Spa there is a "Bio Corner" – a special area featuring a wide range of 100% organic products – another way in which we support local farmers.
We carry out a series of actions to reduce single-use plastics at all our properties and in our central offices, replacing them with reusable products. This enables us to minimise the amount of waste generated and pollution in our seas and oceans.
We produce our own compost and exchange it with farmers for use on their crops, thereby enabling us to offer our customers top quality sustainable products.
We use a unique system to optimise water consumption, by including water pressure regulators in sinks and toilets. We also have low consumption lighting, with LED bulbs in all rooms, thereby ensuring efficient energy savings.
As you can see, sustainability is one of the Garden Hotels' core values and we are fully committed to reducing our impact on the environment and achieving quality circular tourism.
Book now at Garden Hotels and enjoy a happy and sustainable stay at any of our hotels. Make sure you don't miss out!
Categories: Families, Gastronomy, location, Nature and beaches, Destination Plans
« Things to do on a rainy day in Mallorca
Exclusive discount just for you »