Stay at the Tropic Garden Apartments this summer and rediscover Ibiza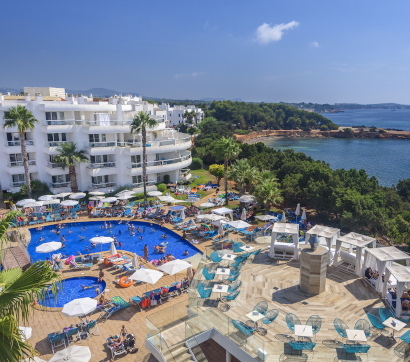 Ibiza, the white island, is renowned across the world as one of the greatest nightlife capitals. Situated to the south of the Balearic archipelago, the largest of the Pityusic islands is a true paradise, with crystalline waters, exquisite cuisine, and an idyllic setting for every kind of outdoor activity.
All this together with high-quality hotels and accommodation, with the spectacular Tropic Garden Apartments in Santa Eularia del Riu being a particular highlight, contributes to this beautiful island being recognised worldwide as a place for fun, with whomever you choose: the family, your partner, friends, or by yourself… Ibiza is always a great choice!
If you fancy discovering the wilder side of Ibiza and exploring some of the lesser-known corners of the island… carry on reading!
The beaches and coves of Ibiza are among the most beautiful and symbolic places on the island, with characteristic forests surrounding them and the great posidonia seagrass meadows of the Mediterranean which have been declared a World Heritage Site by Unesco.
• Cala d'en Serra. One of the island's most delightful coves in a natural area that has been untouched by construction, retaining its charm and making it worth a visit to explore every corner.
• Cala Llentía. Due to its somewhat difficult access, a little-known cove with an interesting series of monuments and works of art, including a mysterious set of columns close to the shore, emulating Stonehenge. Another of the fascinating works of art is a set of free-standing doors with Arabic decorations and inscriptions which frame a view of Es Vedrà islet.
• Cala d'Albarca. Gorgeous cove situated in the municipality of Sant Antoni de Portmany and surrounded by magnificent cliffs and forests. The sea has a spectacular, intensely blue colour that invites you to take a dip, surely one of the best experiences on your trip.
Other beautiful places in Ibiza include the amazing natural parks which welcome countless visitors wishing to experience the great richness nature has to offer on the island.
• Ses Salines Natural Park. Located between the southern coast of Ibiza and the northern coastline of Formentera, this nature reserve occupies an extensive land and sea area. Many types of natural environments can be found here: dunes, beaches, lakes and cliffs.
• Es Vedrà nature reserve. Found in the southwestern part of the island, it has a great variety of protected natural spaces and is regarded as unique in the world. It has a wide range of flora and fauna of great environmental value.
As you can see, there's a lot more to Ibiza than partying and nightlife. As well as the beautiful places described above, there are many other corners of great natural beauty ready for you to discover. Book your stay at the Tropic Garden and come and find your version of Ibiza, enjoy a great family holiday, and live the real Garden Experience.
Categories: Families, Parties / Friends / Nightlife, location, Nature and beaches, Destination Plans
« A holiday with your pet? At Garden Hotels, yes, you can!
PRIZE DRAW! Share your #GardenMoments and you could win a 2-night stay with Garden Hotels »