Dreaming about next summer? Garden Hotels' Black Friday deals are here with up to 40 % discount!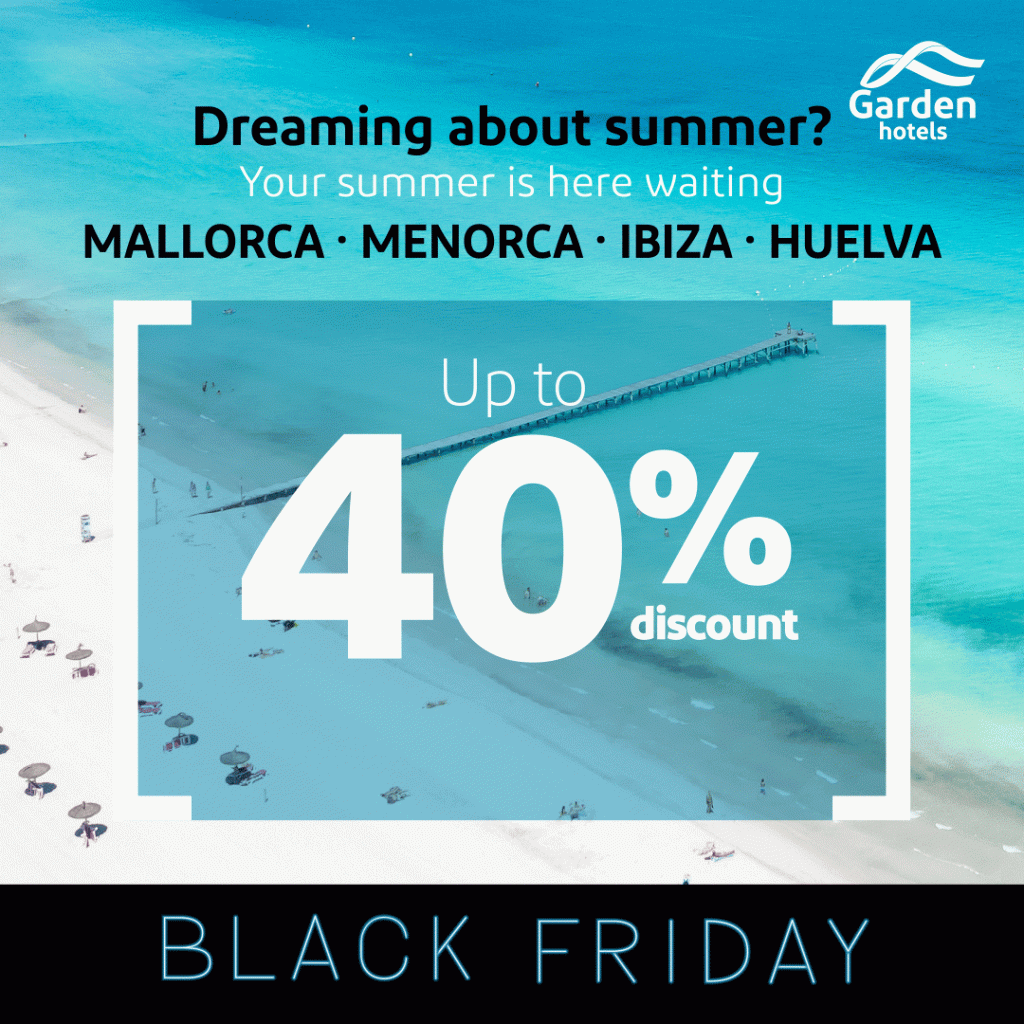 Autumn arrived and you're still thinking about the amazing summer you had? Counting the months, weeks, and days until your next holiday? Daydreaming about lying on the beach with nothing else to think about except all the great stuff you're going to get up to?
Don't worry, we know how you're feeling, so this year your summer starts right here, right now, with our special Black Friday promo. Start planning your holiday at Garden Hotels by booking your next break between the 18th of November and the 4th of December with a spectacular 40 % discount when you use the code BLACKGARDEN.
We want to make sure that you and your loved ones get the unforgettable holiday you want this special Black Friday, so we're giving you 15 days to choose your perfect destination. Treat yourself to a holiday that you'll remember forever. All you need to do is choose between the gorgeous Balearic Islands and the Mediterranean Sea, or the Atlantic coastline and El Rompido, in Andalusia. Oh, don't forget that you also get to decide how, and with whom, you enjoy that amazing holiday! Read on!
Our hotels in the Balearic Islands, located in Mallorca, Menorca, and Ibiza are spectacular establishments designed to be enjoyed as a family. All of them are in stunning settings, overlooking the beach, or just a few metres away from it. Every hotel has its own delightful personality, as do the resorts, and you'll find a mini club and splash zones for the kids, buffet restaurants serving locally sourced food and organic produce, modern spacious rooms, gardens and terraces, and spa and wellness zones.  Have a look at our website and discover everything you want to know about our family hotels in Mallorca, Menorca, and Ibiza.
Or, if you fancy absolute relaxation and tranquillity, we also have several hotels recommended for adults where you'll find all the comfort, peace, and rest you desire. Two of them are in Mallorca; the Garden Holiday Village and the Hotel Cala Millor Garden, and the other is our beautiful Garden Playanatural Hotel & Spa in El Rompido, a charming resort in Costa de la Luz, Andalusia.
The best thing when you book your holiday at Garden Hotels is the fantastic experience you're going to have: the Garden Experience. It's a unique way of understanding holidays that will captivate every one of you, with a full entertainment programme for every age group with sustainability, circularity, and, of course, fun at its core!
We want you all to have an amazing time, from start to finish, whatever your age. Don't just dream about it, grab this special Black Friday offer and start planning your 2023 holiday now! We look forward to seeing you!
Categories: Families, Offers, Destination Plans, Adults Only
« (Español) Hyb Eurocalas recibe la certificación Travelife Gold
Garden Hotels will be the official sponsor of the Cycling Challenge for another 4 years. »